MSA Girls Lacrosse would like to extend a tremendous THANK YOU to Corinne Perillo for her many years of program leadership. Corinne has made the decision to step down as Director of MSA Girls Lacrosse at the end of this season. The program would not be as healthy and robust as it is today without her dedication to girls youth lacrosse. We appreciate so much the time and effort she so selflessly volunteered as our Director.
Any parent willing to give it a go as the Program Director, please come to the next MSA Girls Lacrosse Board meeting on Tuesday, June 7, 2022 @ Airport Park Recreation Building.  The Board currently meets every first Tuesday of the month during the school year.
MSA Girls Lacrosse Summer Camp 
When: Monday, June 27th - Thursday, June 30th
Where: Mahopac High School Turf
Time: 9am-12pm
Who: Girls K-8
Camp Fees: $150
«  2022 SUMMER CAMP COACHES BIOS  »
COACH LEITO
MSCD Elementary School Teacher, he has coached girls lacrosse since 2004 at the modified, JV and Varsity levels, and has been the Dutchess Yellow Jackets coach since 2015.
COACH AVA
Veteran MSA coach and a 2022 graduate of Mahopac High School, she is committed to playing D1 Lacrosse at the University of Cincinnati.
COACH TAYLOR
Former captain of the MHS Varsity Lacrosse Team, she plays lacrosse at Indiana University and is an active member of the Snipers Elite Club Lacrosse coaching staff.
COACH BETHANY
After playing for more than 10 years and experiencing lacrosse at the collegiate level, she plans to graduate Manhattanville College this fall and continues her love for lacrosse by coaching with MSA.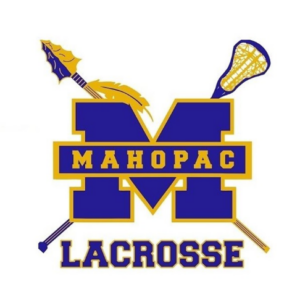 MSA Girls Lacrosse Board Meeting – Tuesday, June 7th: 7:30pm @ Airport Field Park MSA Girls Lacrosse holds its monthly board meeting on the first Tuesday of every month. If you have an interest in joining the board, have ideas you'd like to share with its current members, and/or are curious to see how decisions about…
Read More

→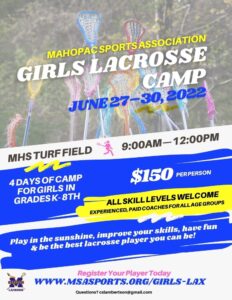 Register now!   When: Monday, June 27th – Thursday, June 30th Where: Mahopac High School Turf Time: 9am-12pm Who: Girls K-8 See the Coaches Bio's MSA Girls Lacrosse »»
Read More

→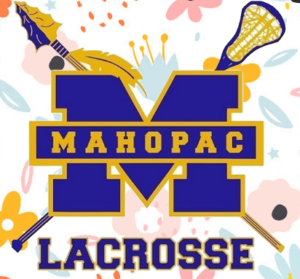 The role can be filled by any parent willing to give it a go. The MSA Girls Lacrosse Board currently meets every first Tuesday of the month during the school year. The NEXT MEETING is June 7th at 7:30pm at the AIRPORT PARK RECREATION BUILDING These meetings are always open to all. Please attend next…
Read More

→