1. Girls Lacrosse Stick (They are different than boys sticks)

Lacrosse sticks can vary in price from $25 to $200, for beginners we recommend sticks that are priced below $45 because you don't need anything special to get started with the game.

2. Mouthpiece

**no protruding tabs or strings

4. Eye Protection

If your child wears prescription eyeglasses you should look into getting eye protection designed for over her glasses available from these companies:
Optional Headgear is available for use from MSA!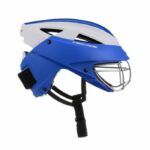 Thanks to a generous donation in 2019, MSA Girls Lacrosse has 46 NEW royal blue Cascade helmets.
The helmets require a $150 postdated check which will be refunded when the helmet is returned.
If you wish to borrow one for the season please email Corinnne Perillo.
Sports Barn

2918 Crompond Road, Yorktown Heights

* Very helpful and knowlegeable about the game*

Lacrosse Unlimited

15 Backus Ave, Danbury, CT
Longstreth

*Reasonably priced-Female Equipment Specialist*
Field Player Stick
35 1/2 inches minimum
43 1/4 inches maximum
Goalkeeper Stick
35 1/2 inches minimum
48 inches maximum
For younger/smaller girls you can cut the length of the lacrosse shaft to custom fit it for your childs maximum comfort. The overall length of the entire stick can be between 35 1/2 inches to 43 1/4 inches. Sports Barn will do this for you if you bring your daughter with you when purchasing a stick there.
Here are the guidelines for cutting the stick yourself.
Have your child hold just below the bottom of the stick head.
Stretch the stick along her arm.
Cut off the length that comes past her armpit.
****Do NOT Cut Shorter than 35 1/2 Inches****